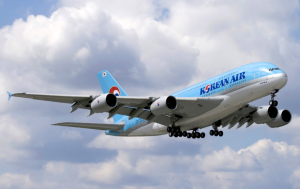 Q:  How soon will I be reimbursed for my flight?
A:  Most schools will reimburse you for the flight ticket within a month upon your arrival or it may be included in your first paycheck. It is rare, but some private schools may reimburse you at the end of the contract, once the employment is done. This will be explicitly shown on your contract.
Q:  Will a school pay for my flight upfront?
A:  Generally speaking, no.
Most likely, you will have to purchase your flight first, then get the reimbursement from the school, so that you may have something to use before you receive your first paycheck. If you get lucky, every once in a great while, there will be a school that is willing to do this. Most schools are hesitant about paying for a flight before they know for sure that the teacher will be in Korea.
Q: Will HandS Korea help me pick a flight?
A:  For people from North America, we have a very reputable travel agency that we work with, and they can help you find the best flight.
Q:  If I stop by another location on the way to South Korea, will the entire flight be reimbursed?
A:  No, the school will not reimburse you for personal flight reasons. We recommend you do not take a stop on the way to South Korea, so that you may receive reimbursement, and also due to time conflicts that may arise.
Q:  Will the school reimburse me for a ticket other than economy?
A:  No.
Q:  Can I choose whichever airline?
A:  Depending on the time you need to travel, you may choose whichever flight that is available.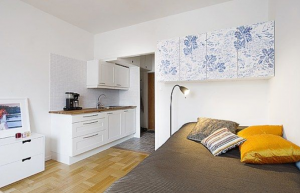 Q: Do I get to choose the apartment?
A:  No. The school will already have a place they work with.
Q:  How big is my apartment?
A:  Not very big. Korean apartments are generally not very spacious, especially in more urban areas. Most foreign teachers will live in a single studio apartment, which may not be quite as large as the picture shown above.
Q:  Will my apartment be furnished?
A:  Most schools will provide a bed, desk, refrigerator, wardrobe, and possibly a microwave. Some people will have appliances or furnishings leftover from the previous tenant, but expect to purchase your own sheets, pillows and blanket when you arrive in Korea.
Q:  Is it really completely free?
A:  While the rent is covered by the school, you will be responsible for paying for the utilities and/or maintenance fees. In some cases, the school may take a certain amount a month directly out of your paycheck to cover for maintenance fees/deposit.  Some places may include certain utilities, while some places may require you to set things up on your own. All of these details should be listed on your contract.
Q:  If I don't take the apartment, do I get a compensation?
A:  Some schools may offer a compensation if you don't take the apartment. Details will be in your contract.
Q:  How far will my apartment be from the school?
A:  Most places are within walkable distance or 1-2 stops by bus/subway, usually within 10-15 minutes from the school.
Q:  What is the weather like in Korea?
A:  It really depends on where in Korea. The following is an estimated range for central South Korea.
-Spring (March~early May) is pretty short  and cool (10ºC~19ºC/50ºF~66ºF)
-Summer (mid-May~early September) gets really hot and humid (30ºC~40ºC/86ºF~104ºF)
-Fall (mid-September~early-November) is pretty short. Initial Fall is still pretty warm and the latter half gets pretty cool. The  early            mornings and late evenings are pretty cool. (10ºC~20ºC/50ºF~68ºF)
-Winter (mid-November~early March) gets really cold. It snows, but usually not extreme snow. (-20ºC~5ºC/-4ºF~40ºF)
Q: What do I need to pack before travelling to Korea?
A:  Most important:
-flight ticket/itinerary, boarding pass, passport (which should include your visa), form of government issued ID
-extra passport photos: you will need 4 extra passport photos for your health check, ARC, and etc. (you may get them taken upon
arrival)
-residency certificate: for those candidates from US, AU, NZ, UK, and SA, you may be exempt from paying Korean income taxes for
the first 2 years living in South Korea. In order to do so, you must submit a residency certificate. Unfortunately CA and IR
candidates and private school teachers will not be exempt. (Please contact the tax authority in your home country for additional
information in regards to obtaining the appropriate documents.)
Korea has almost everything readily accessible, so you may purchase items upon arrival, but for your convenience, you may want to
pack the following for immediate use.
-Clothing: according to the seasons (It may be difficult to find sizes/fits in Korea, as majority of the sizes run smaller)
-Shoes: It may be difficult to find sizes/fits in Korea, as majority of the sizes run smaller.
-Bath towels: (Korea does have bigger sizes available, but the average size is much smaller)
-Toiletries: You will need these for immediate use since the school will not provide them. (Deodorant is not popular in Korea, so it is
either difficult to find or expensive.
-Bedding: This may be purchased in Korea, as Korea has many different types and designs, but you may want to bring something for
immediate use, since the school most likely will not provide these.
-Money:  You will need to bring money for your personal use to purchase items or food before you receive your first paycheck. You
can get the money exchanged to the Korean won at the airport or at the banks here in Korea, or you can have it exchanged back at
home for more convenience. You will eventually be opening up a bank account here in Korea to receive your paycheck via direct
deposit, but this will happen once you receive your ARC (alien registration card). Until then, you will have to spend cash.
-Electronics: We don't suggest you bring electronics from your home country because the voltage may be different in Korea, which is
220v. If you do bring them, you may bring voltage adapters or purchase one in Korea.
-Laptop: We suggest you bring your own laptop to help prepare for lessons, especially for language reasons. The computers in Korea
will be set-up in Korean, therefore the programs (Microsoft, Adobe, and etc.) will also be in Korean. There will be computers
available within the schools and Korea has many PC rooms, otherwise known as public computer rooms, where you can pay to use
the computers, but it's not recommended.
Q:  Can I use my smartphone in Korea?
A:  We suggest you go to your carrier and get your phone unlocked. Then you will be able to use the phone here in Korea. We provide a
SIM card service that you can use upon arrival before you receive your ARC, which you will need to set up your own phone plan. (For
further information, visit our phone tab)
Q:  How early can I arrive to Korea?
A:  This depends on your contract with your school. Some schools may require you to be within a certain amount of days before your contract for flight reimbursement. This also affects accommodation, as schools most likely will not provide accommodation way before the starting date of the contract.
Q:  How long do I have to make a decision to accept an offer?
A:  The faster, the better. That doesn't mean that we want to rush you, but sometimes schools are looking for someone asap, and
sometimes they have a little more flexibility, but you do need to understand that these positions are quite competitive, so the faster
you make a decision, the better are your chances of landing the position.
Q:  If I don't receive an offer this semester, can I apply again the following semester?
A:  Of course! HandS Korea will do our best to match you with a school, but in the case things don't work out that semester, we would be
more than willing to assist you as you reapply the following semester. (For additional information, please contact HandSKorea)