A resume is required for acquiring an E2 Visa. One page is sufficient. Please include all relevant experience (although none is required!).
Be sure to include:
Professional photo
Contact details

Email
Phone Number (with country code)
Skype ID (you will need a Skype account for interviews)

Relevant Skills
Languages Spoken
Time Spent Abroad
Degree(s) and GPA Received
Relevant Certifications (TESOL, TEFL, CELTA, TOPIK, PGCE, etc.)
Cover Letter (can be a separate page)
The E2 health form is simply a very basic self evaluation. Please fill out the entire form, sign the bottom, but do not date it.
We will send the formal document to fill out once we decide what type of school to put you towards as only hagwons need this. Public schools do not need the E2 health form.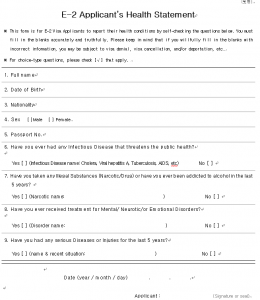 The application for confirmation of visa issuance (full name) is a very detailed multi-page document that is required for acquiring an E2 visa.
The contents are mostly information about you; contact information, education, travel dates, etc. It's relatively straight forward and takes about 5-10 minutes to fill out.
Please only fill out sections 1-7, as the remaining sections are for the school to complete. We will send you the full document upon our initial interview as only hagwons require this application. Public schools do not.
Here is a sample of what the final page looks like: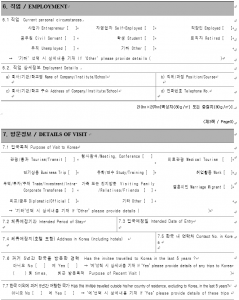 Official sealed transcripts can be ordered directly from most universities' websites. Typically these take about 2 weeks to deliver, although it will  vary by university and location. If your university does not deliver these via mail you will have to go to the university in person to retrieve them (you may still have to request them in advance. When in doubt call your university to confirm). It's best and most convenient to just get these out of the way early on as sealed transcripts do not have an expiry date.
Do please take care to only obtain sealed transcripts that were sealed at the university. Sealing them at home on your own is not acceptable and neither are any transcripts that are open. Upon receiving your sealed transcripts simply leave them in their envelopes as they came.
Many schools in Korea require letters of reference ("LOR" from here on out) to be part of your document packet. All public schools require LOR for the visa process specifically. Hagwons typically don't need them but there are certainly exceptions.
Public schools are notoriously specific in their format and inclusion requirements for LOR so please do not forget to list these out to your prospective referee(s).
All LOR must contain:
Performance review of you.
Neutral addressing ("to whom it may concern" is sufficient)
Specification of your position.
Specification of their position.
Contact details of the referee:

Email address
Physical address
Phone number

Official letter head of the company, organization, school it came from.
Ink signature (no copies whatsoever)
There are three general certifications widely accepted as a qualification to teach English as a foreign language:
The first two are very similar. While minor differences may come about, the factor of the course itself or the exact instructor makes these differences even more minuet. CELTA is more rigorous and takes more time typically and the methods taught can be different than the former two. Regardless, any of these are completely acceptable for any of the types of schools we offer.
For hagwons the exact details of your particular certificate (content, hours, etc.) are not important; it's more important that you simply have one rather than the nature of it.
Public schools are a bit more specific in their requirements:
EPIK: 100 hours minimum. Can be online, in class, or a combination of the two. Positions in Gyeongsangnam require 20 hours of in class time and positions on Busan require 50.
GOE: 100 hours minimum. Can be online, in class, or a combination of the two. Technically in class hours are not required but they are highly recommended.
Getting a TESOL/TEFL/CELTA certificate these days is easier than ever before. Online classes allow one to proceed at the pace he/she wants and any of these classes now can be had at a very affordable price (as low as $20).
When submitting your documents for your visa, remember that you don't hand over your original certificate. A copy is fine and it needs no processing (i.e. notarizing/apostiling).
If you are currently taking your TESOL/TEFL/CELTA course but are not yet finished, you can and should get an enrollment letter to prove you are taking the course and have an expected graduation date. This isn't always necessary but it is simple to get and requires no processing (i.e. notarization/apostile). See the bottom of the page for an example. *Note: make sure to obtain an ink signature on this document.
If your TESOL/TEFL/CELTA course contains/contained an in-class component it may also be worth getting as some schools may want to see it (typically private schools do not but public schools do). See the bottom of the page for an example. *Note: make sure to obtain an ink signature on this document.
The schooling letters Korea is looking for are for proving a teacher has received their education in English when they were in primary and secondary school. Normally this is only required for South African individuals as South Africa has so many official languages.
For both GOE and EPIK an individual must have received education in English from 7th grade-university at a minimum (7 years in total, minimum).
The letter must come directly from your primary/secondary school(s) and state that you received education in the English language. An ink signature is required as well. These letters are quite short, as they only need a couple of sentences to get the point across. See the example below to get an idea of what you need:
The nature of these varies based on your home country. Please see the appropriate requirements for you below: