Smartphones are essential in 2020, as so much communication is done electronically in the fast-paced, modern society, and South Korea is no exception. All teachers placed by HandS Korea have the opportunity to obtain a SIM card to get them through their first period of teaching until they get their ARC (alien registration card). The other option is of course purchasing a temporary SIM card at the airport upon arriving.
Regardless of which option you choose, a working phone with internet access is important to modern Korean society:
Kakao Talk, the Korean messaging application, is used by 93% of Koreans, making it the primary mode of communication
Taxis are ordered via phone application
Delivery of everything from groceries, meals, and basic necessities of all kids are ordered via Coupang: Korea's vastly popular delivery service.
All teachers coming over to Korea must ensure their phone is unlocked or a sim card will not work. If you are confused as to if yours is unlocked or not please visit your local phone purveyor of whatever brand you carry.
Before filling out an application, you may need to read about the contract terms. The following documents contains the prepaid SIM card terms and conditions. Please click to download and review.
After you have read the terms and conditions, you may download and fill out the application.
Please click below to download the instructions and the application.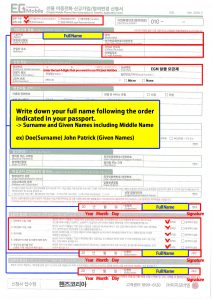 Now that you have read the instructions, you are ready to fill out the SIM card application.
Please click below to download the application and fill it out, then send it to HandS Korea.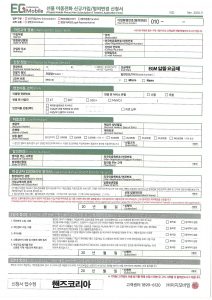 When you get your SIM card, you want to activate the SIM card. It should work as soon as you activate it. If for any reason it does not work properly, do not be alarmed.
Please click to download the document below, which will help resolve the problem with activation.